Guide to the FHA 203k Rehabilitation Loan Program
Posted by Matthew Lahti on Saturday, June 15, 2019 at 9:43 PM
By Matthew Lahti / June 15, 2019
Comment
With the growing popularity of HGTV and their home flipping tv programs, buyers are more enthusiastic than ever in finding a fixer-upper with the idea of saving money on their new home. What they don't understand is that a standard conventional, FHA, VA, or USDA home mortgage does not allow financing for homes in need of repair and that's where the FHA 203K rehabilitation loan comes into play.
What is a 203k Rehabilitation Loan?
Simply put, a 203k rehabilitation (Rehab) loan is a type of mortgage that allows a buyer to finance repairs into their loan while still following the conditions and qualification guidelines of a typical FHA home loan. There are two types of rehabilitation loans, the limited (formerly known as streamlined) and consultant 203k rehabilitation loan.
Limited 203k Rehabilitation Loan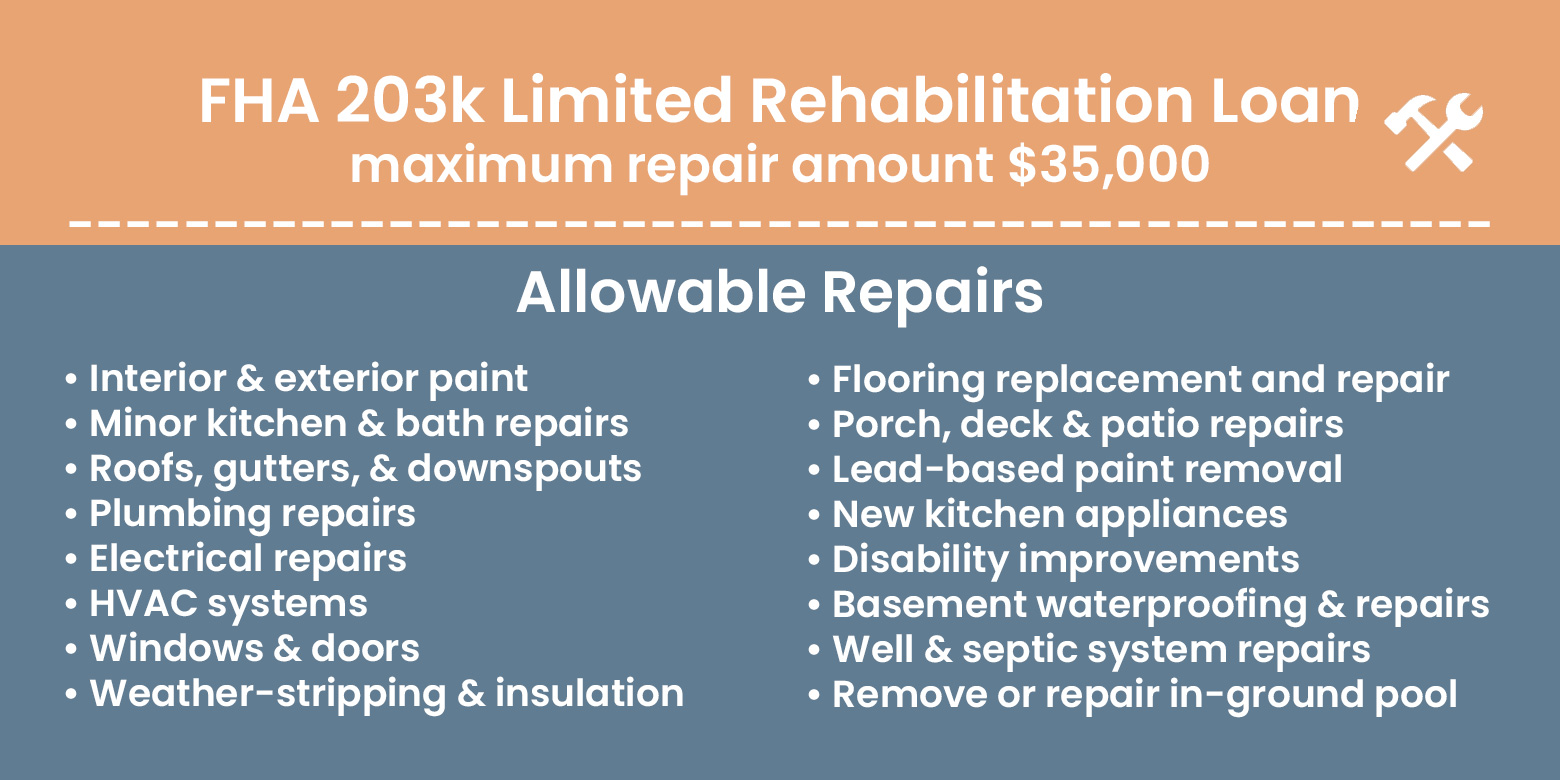 The limited 203k rehabilitation loan allows for repairs up to $35,000 and is for items considered light cosmetic repairs.
These items include:
Interior and exterior paint
Minor kitchen and bath repairs
Roofs, gutters, and downspouts
Plumbing
Electrical
HVAC systems (heating, venting, and air conditioning)
Windows and doors
Weather-stripping and insulation
Energy efficient home improvements
Flooring, including carpet, tile, wood, etc.
Porch, deck, and patio repairs
Lead-based paint removal or stabilization
New kitchen appliances
Home improvements for persons with disabilities
Basement waterproofing and completion
Well and septic system repairs
Remove or repair in-ground swimming pools
Consultant 203k Rehabilitation Loan

The consultant 203k rehabilitation loan is for more significant home repairs where the total cost will exceed $35,000.
These items include:
Major structural repairs
New construction and additions to the existing structure
Major rehabilitation repairs
Repairs or improvements requiring detailed drawings including or architectural design
Any repairs that will take longer than three months to complete
Renovations or repairs that won't begin within 30 days of the loan closing
Qualifying for a 203k Rehabilitation Loan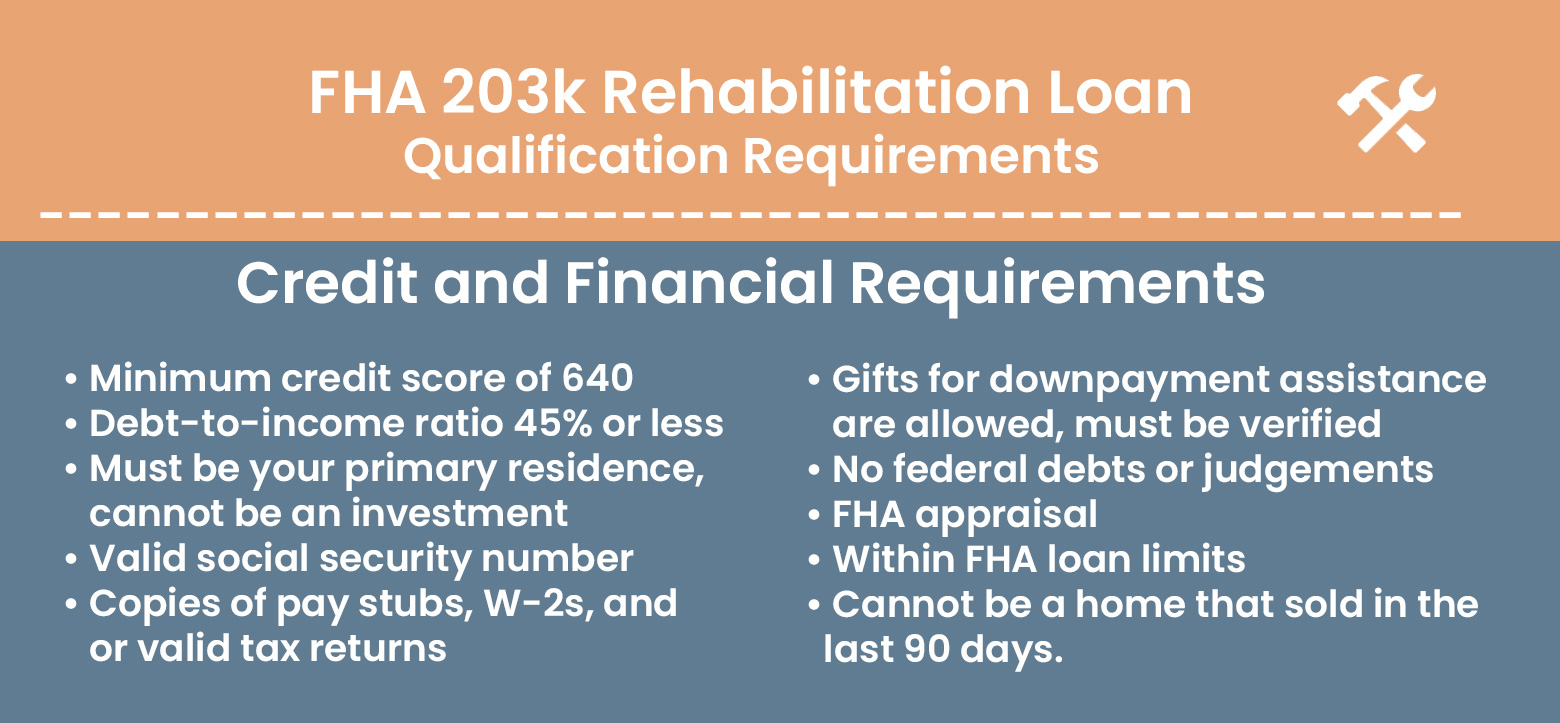 The difference between qualifying for a standard FHA and the 203k rehabilitation loan is your credit score. All the other qualification requirements are the same. To be eligible for a 203k rehabilitation loan a borrower must have a minimum credit score of 640 and put a minimum of 3.5% down vs. a standard FHA home loan which requires a minimum credit score of 500 with 10% down and 580 with 3.5% down payment.
The other requirements for the standard and rehabilitation FHA loan include:
A debt-to-income ratio of less than 45%
Two established credit accounts. For example a credit card and auto loan
No federal debts or judgments
Gifts for down payment assistance are allowed though they must be verified, in writing, signed, and dated by the donor
Valid social security number
Copies of pay stubs, W-2s, and or valid tax returns
The home must be your primary residence. It cannot be an investment property.
An FHA appraisal. For rehabilitation loans, they will appraise the current as-is value along with the future value once repairs are complete.
Flip properties are not allowed, meaning you can't purchase a home within 90 days of a prior sale.
The home must fall within the loan limits set by FHA.
These are the main requirements to qualify for an FHA home mortgage, whether it's the standard, consultant, or limited loan type. In the event you don't meet each of these requirements it's still possible to get approved although the loan will require manual underwriter approval.
FHA 203k Repairs
One misconception about FHA 203k rehabilitation loans is that the buyer can do the repairs themselves; this is not true. Buyers must hire licensed, bonded, and insured full-time contractors. Hiring your buddy that does contracting work on the side won't work.
Besides, you should consider contractors that have been through the FHA 203k rehabilitation loan program before. The program requires additional forms and inspections, completing them incorrectly can hold up the process and your move-in date if you're doing extensive work.
Your lender may require as many as three repair bids. While you can select which contractor you work with the lender will review the proposals to ensure that they are "reasonable" and will fit within your loan limit.
FHA Mortgage Insurance (PMI)
Unless you put at least 20% down or your loan to value ratio is under 80% you will be required to obtain private mortgage insurance or PMI. Once the balance of your loan is below 80%, you can request to have it removed with your lender. Once your loan balance is 78% of the purchase price, PMI is automatically canceled.
The initial cost of PMI is 1.75% of the loan balance. You can either pay the premium at closing upfront or wrap the cost into your loan.
In addition to the initial premium, a monthly premium is paid as part of your mortgage payment and can range from 0.45% to 1.05% of the loan amount per year.
Closing Costs
Depending on your credit score, your closing costs can range between 2% to 5%. An FHA mortgage does allow the buyer to request the seller to pay these costs in the initial purchase and sale agreement. Your lender can provide you with the estimated closing costs based on your credit profile.
FHA Mortgage Limits
Each year, the Federal Government sets the FHA mortgage limits for the entire country. The limits depend on a couple of factors, including where you live and the median values for your market.
For example, the current mortgage limit in Boise, ID for a one-family home is $331,200 while in Seattle, WA, it's $726,525.
You can find your FHA mortgage limit by visiting the U.S. Department of Housing and Urban Development's website.
Ready to get started?
Step 1. Contact a Mortgage Broker - most mortgage brokers can offer you the FHA 203k rehabilitation loan. Make sure you ask whether they've been through the process before, now is not the time for trial and error.
Step 2. Contact a Real Estate Broker - find a local Real Estate Broker that has worked with buyers using this type of loan before. Working with a broker that has been through the process before will not only understand the loan process but will also know that you need a property that is priced for the amount of work required and will appraise once all the work is complete.
Step 3. Make an Offer - Congratulations, you and your broker have found a home that you feel would be an excellent fit for your budget and vision. Your broker will prepare a purchase and sale agreement. The price offered in the contract is the price you're willing to pay as-is. Also, your broker will include a financing contingency alerting the seller of the type of loan you're using. This contingency will protect you in the event the total amount needed for repairs will exceed your final approved loan amount.
Step 4. Home Inspection and Repair Bids - although you're likely purchasing the home in as-is condition you should still order a complete home inspection performed by a licensed inspector. Now is the time to find any issues with home so you can include it in your rehabilitation loan. Once your home inspection is complete, and you've decided to proceed with the purchase, now is the time to order your repair bids. If you need referrals, your real estate broker and a mortgage broker can give you some recommendations.
Step 5. FHA Appraisal - your lender will order an appraisal from an approved FHA Appraiser. The appraiser will determine the current market value in as-is condition along with the repaired value. The difference between the as-is value and the repaired value will determine how much money you'll have available for the needed repairs. The amount of the home in as-is condition, along with the total cost for all repairs cannot exceed the repaired value.
Step 6. Closing - the big day has arrived, it's time to close on your new home. The closing process is very similar to any other loan. Your lender will provide the closing documents for your loan to a local escrow company who will prepare the final closing documents that you will sign. Once the papers are signed, the lender will release the necessary funds to close, which includes the funds for repairs. The funds for the repairs are held in escrow until such time the contractor requests an approved draw or the renovations are complete.
Step 7. Repairs - now that your loan has closed the repair process can begin. All repairs must start within 30 days of closing and completed no later than six months. It's essential that the contractor not only begins promptly, but when providing a bid took into consideration your closing date and their availability.
Conclusion
While the FHA 203k rehabilitation loan won't turn you into the next home flipper, it does provide buyers an excellent opportunity to purchase a fixer-upper, hopefully, for a great deal and build some instant equity.
Work with professionals that know, understand, and have worked with a buyer that used the FHA 203k rehabilitation loan before. Like we said before, now is not the time for trial and error. Working with experienced professionals will ensure a smooth buying and closing process.